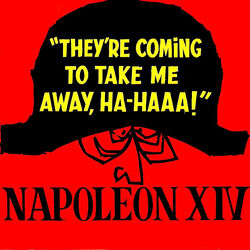 "They're Coming to Take Me Away, Ha-Haaa!" is a 1966 song written and performed by Jerry Samuels under the name "Napoleon XIV". A comedic song about a man's mental health after he is dumped, it is known for being a big hit that suffered from major backlash due to its perceived ridicule of the mentally ill, resulting in the song falling on the charts and even being banned on some stations such as WMCA-FM (which lead to many teenagers picketing WMCA and chanting "We're coming to take WMCA away! Unfair to Napoleon in every way!"). It was used as the closing theme to the episode "National Anthem Conspiracy Theory (Sign-Offs, Vol. 2)".
Ad blocker interference detected!
Wikia is a free-to-use site that makes money from advertising. We have a modified experience for viewers using ad blockers

Wikia is not accessible if you've made further modifications. Remove the custom ad blocker rule(s) and the page will load as expected.