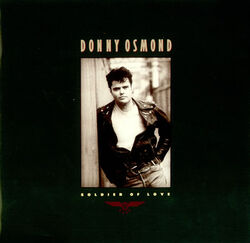 "Soldier of Love" is a 1989 pop rock song by Donny Osmond. The song is known to be less "sugary" than his other famous works such as "Puppy Love", and earned a #2 position on the Billboard singles chart. Oddly enough though, the album this song is on flopped, despite hopes of it being his biggest comeback. The music video to the song was the directorial debut of infamous American film director Michael Bay, and was riffed on in the minisode "Donny Osmond - Soldier Of Love (Michael Bay Salute)".
Ad blocker interference detected!
Wikia is a free-to-use site that makes money from advertising. We have a modified experience for viewers using ad blockers

Wikia is not accessible if you've made further modifications. Remove the custom ad blocker rule(s) and the page will load as expected.