LaserKaraoke Vol. 3 (& VCD Karaoke Vol. 1) is the fourth episode of the Oddity Archive's fourth season (82nd overall episode), and premiered on YouTube on August 27, 2015.
Ben reviews several karaoke VCDs and LaserDiscs, claiming that he had more of the former than the latter.
VCDs reviewed in order:
Pop Top Hits (from Taiwan)
Video Karaoke dengar Panggilan Tuhan (Indonesia)
OPM Hit List for Women (from Phillipines, OPM is shorthand for Original Phillipine Music, also known as Filipino pop music; songs mostly in Filipino)
Famous Gold Selections Female Classic (from Phillipines, two volumes; some footage has showed up in previous LaserKaraoke installments; all songs in English)
Classic Love Songs (from Phillipines; all songs in English)
Hits of Kenny Rogers (from Phillipines; Ben claims this is his personal favorite of the VCDs; all songs in English)
LaserDiscs reviewed in order:
MegaStar Karaoke (volumes 35, 38, and 43)
Ben gives a demonstration of his LaserKaraoke machine, and plays/sings a cover version of "Everytime You Go Away" (originally by Daryl Hall & John Oates, made famous by Paul Young) to demonstrate the features. He then shows that LaserKaraoke machines with key-change function are useful for the following perks:
For guide vocals to sound like some semi-famous singers
For getting the more surreal LaserKaraoke titles to sound more appropriate
To lower the key of more difficult songs
To raise the key of difficult songs
Ben exhibits several clips from the titles that he's reviewed, grouping them into the following:
Repeat offenders
Bad music
Bad vocals
Wrong lyrics (Ben claims that poor enunciation led to many '90s songs getting botched lyrically)
Interesting footage in the foreign-language VCDs
Footage featuring supermodels
The Official Oddity Archive Boyz II Men Montage (where one of the "Boyz" gets progressively drunk)
Off-the-wall clip (couple cuddling to a cover version of "Bring the Pain," originally by Method Man)
The episode ends with Ben singing "I Just Called to Say I Love You," originally by Stevie Wonder, this time with the key change function on the LaserKaraoke machine all the way down. Ben accordingly sings it with a Southern accent, and a bass-baritone voice.
Other information
Edit
Opening Theme: "I've Never Been to Me" (made popular by Charlene)
Closing Theme: "I Just Cauled to Say I Love You" by "Buck Minnotte"
The Show That: Always seems to be slightly out of tune, and we wouldn't have it any other way.
Box Show: Shot from a karaoke song, with lyrics "I pray to God that something's wrong" (from unknown song)
Join Us Next Time: When I seize the airwaves, and pollute it with nothing more than good old, straight up LaserKaraoke. But in the meantime, I've got a little score to settle.
Written and Hosted by: Ben Minnotte (he'd really love to see you tonight)
Production Company: Decaf Knicker Productions
Closing sting: Snippet of karaoke cover of "Everybody Hurts" originally by R.E.M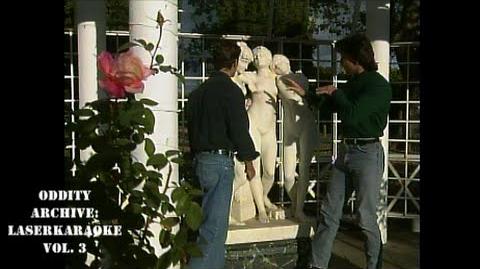 Ad blocker interference detected!
Wikia is a free-to-use site that makes money from advertising. We have a modified experience for viewers using ad blockers

Wikia is not accessible if you've made further modifications. Remove the custom ad blocker rule(s) and the page will load as expected.