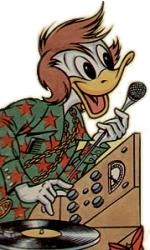 Irwin The Disco Duck
is a character who was featured in a series of children's disco records by
Peter Pan Records
.
Irwin 
was inspired by the song "Disco Duck" by Rick Dees & His Cast of Idiots.
Irwin The Disco Duck
was changed to
Irwin The Dynamic Duck 
in the 80's when Disco fell out of fashion. He appears as a anthropomorphic duck with brown hair and 70's style clothing and mostly exists on the albums as a mascot and disc jockey.
Ad blocker interference detected!
Wikia is a free-to-use site that makes money from advertising. We have a modified experience for viewers using ad blockers

Wikia is not accessible if you've made further modifications. Remove the custom ad blocker rule(s) and the page will load as expected.