Format Wars
Season 1, Episode 7

Information

Air date
October 1, 2012
Written by
Ben Minnotte
Directed by
Ben Minnotte

Music

Opening Theme
Unknown
Ending Theme
Unknown

Episode guide

Previous
Next
Everlasting Love
1-900 ARCHIVE
"Format Wars" is the seventh episode of Oddity Archive.
Ben discusses the Format Wars and the electronics (and the renting movie companies) featured in the Format Wars like:
| Name | Company | Win/Lose |
| --- | --- | --- |
| U-Matic | Sony | Not part of Format Wars |
| Betamax | Sony | Lost |
| VHS | JVC | Won |
| CED | RCA | Lost |
| LaserDisc | Philips | Won |
| DVD Rental | N/A | Won (belately) |
| Divx | Circuit City | Lost |
Running Gags
Edit
Opening Theme: "Analog Man" by Joe Walsh
Closing Theme: "We Built This City" by Starship
Company Name: A Stylus To Death Productions"
Very End Clip: A carpet commerical on an U-Matic tape.
The Show That: "Openly shuns or shunly opens..." (tape laughter)
Cardboard Box: Wink Martindale
Join Us Next Time: None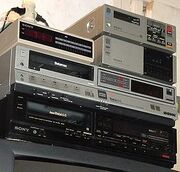 This is the first episode dealing with technology.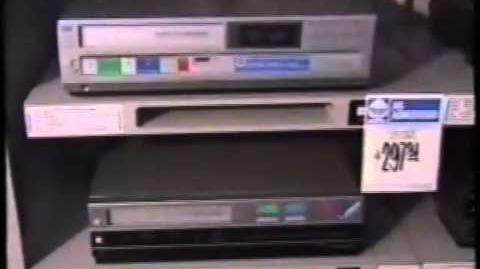 Ad blocker interference detected!
Wikia is a free-to-use site that makes money from advertising. We have a modified experience for viewers using ad blockers

Wikia is not accessible if you've made further modifications. Remove the custom ad blocker rule(s) and the page will load as expected.