Captain Midnight is a signal hijacker.
From the Movie
Edit
This Captain Midnight is a teenager with a powerful CB radio that allows him to take over the airwaves as a disc jockey.
John R. MacDougall
Edit
John R. MacDougall is a Florida satellite engineer who hijacked HBO because he thought HBO was overcharging customers with high subscription fees and forcing them to buy a descrambler box to descramble their signal. He displayed this in the hijacking: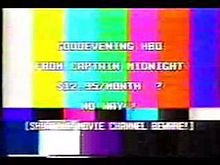 He was charged with a $5,000 fine and was placed on one year's probation. He still operates his electronics store in Ocala, Florida.
Ad blocker interference detected!
Wikia is a free-to-use site that makes money from advertising. We have a modified experience for viewers using ad blockers

Wikia is not accessible if you've made further modifications. Remove the custom ad blocker rule(s) and the page will load as expected.